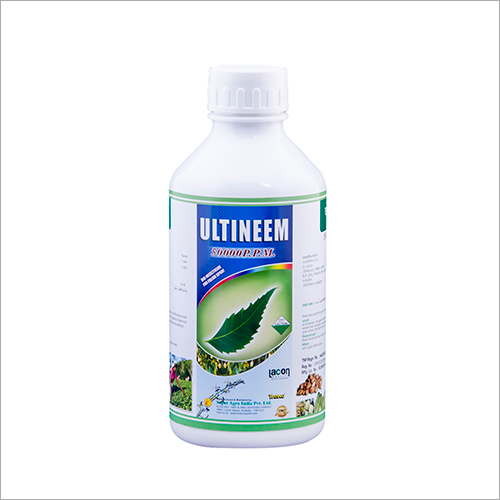 Agro Bio Pesticide
Product Description
We are instrumental in offering our customers a comprehensive range of Agro Bio Pesticide. It is widely used for packing fertilizers and pesticides. Our adroit professionals manufacture these pesticides with the use of quality tested chemicals and advanced machines in accordance to the prevailing market trends. The bottle provided by us goes through a series of tests for make sure its flawlessness and leak proof nature. Also, we offer this Agro Bio Pesticide in various sizes and colors at industry leading prices with no hassle.
Target crops
All cultivated Agricultural crop/Horticultural crops/
Plantation crops/Floricultural crops
Composition
Azadirachtin 0.3% (3000ppm)
Azadirachtin 1% (10000ppm)
Azadirachtin 5% (50000ppm)
Mode of action
Azadirachtin, The active ingredient in Ultineem 3000 /10000/50000 ppmis the most important insecticidal substance contained in the plant, it has, even in very small doses, a growth disrupting effect on many insect larvae, i.e. insects which eat this substance are unable to develop to the next larval / nymphal stage and die off. Due application of AZA there is a suppression of PTTH hormone in insects there disrupting thr moulting process.Other pests, such as grasshoppers, avoid or reduce feeding as a reaction to azadirachtin. As tests have repeatedly confirmed, due to its special mode of action, the neem. extract is quite harmless for useful insects. Unlike synthetic pesticides, tests carried out over a longer period indicate that development of any resistance to the neem extract is in the short term unprobable. One great advantage of the neem extract is that even after repeated application on vegetable crops, it remains perfectly harmless for humans. Ultineem-3000/10000/50000 ppm is a neem based Organic Insecticide, which effectively reduces the pest load on field & Coffee plantation crops. The Active ingredient in Ultineem –3000/10000/50000 ppm points to 3 major limonoids extremely effective on all dangerous agriculture pests. The limonoids are

(i) Azadiractha (ii) Salonnin (iii) Meliantriol (iv) Nimbin.
Commercially produced neem preparations can suppress a broad range of pests including insects, centipedes, millipedes, mites, and nematodes.
Insect pests which neem will control -
Brown planthoppers - Young scale insects
Cabbage caterpillars -Leaf-miners -Whitefly
Adult grasshoppers -Mealy-bugs -
Greenfly (aphids) -Onion thrips –
Adults Grasshoppers, Brown plant-hoppers, Cabbage caterpillars, Onion thrips, Whitefly
Young scale insects, Greenfly (aphids), Termites & most species of invasive ants are repelled for over a month, Leaf-miners and Mealy-bugs
Tea-pests like mites, looper and bunch caterpillars, thrips, jassids, tea mosquito & termites.
Cotton - Spodoptera, boll worms, jassids, thrips, aphids & white fly.
Paddy - green leaf hopper, brown plant hopper, stem borer, leaf folder, ear head bug, rice root weevil and cut worm.
Vegetables - fruit and shoot borers, thrips and aphids, mushroom fly and diamond back moth.
Fruits - leaf miners, hoppers, hairy caterpillars, bark and fruit borers.
Sorghum and Sugarcane - shoot fly, stem borer, ear head midge, bugs and white grub.
Green houses - Silver leaf white fly and other species of white fly and powdery mildew.
In Coffee it controls Stem borer, berry borer, scales, mealy bugs, leaf hoppers
Overall tests of neem extracts have shown results on about 300 insect species, mostly in the Orthoptera (grasshoppers, katydids, etc.); Homoptera (aphids, leafhoppers, etc.); Dictyoptera (cockroaches and mantids); Lepidoptera (moths and butterflies); Heteroptera (true bugs); Diptera (flies); Coleoptera (weevils); Hymenoptera (bees, wasps and ants); Isoptera (termites); Thysanoptera (thrips), and Siphonaptera (flea) orders (NRC, 1992; Randhawa and Parmar, 1993).
Dose and application procedure
As a foliar spray to control insect
Ultineem 3000ppm- @ 2.5 ml/lit water one spray after 20 days interval regularly
Ultineem 10000ppm- @ 1.5 ml/lit water one spray after 20 days interval regularly
Ultineem 50000ppm- @ 1.25 ml/lit water one spray after 20 days interval regularly
Payment Mode :- DD/NEFT/RTGS/Direct Transfer
Trade Information
Kolkata

As per order Per Day
Contact us for information regarding our sample policy

Madhya Pradesh, Jharkhand, Chhattisgarh, Bihar, Andhra Pradesh, All India
Contact Us
168/2, Lenin Sarani Kolkata West Bengal India +918037401895
Phone :+918037401895