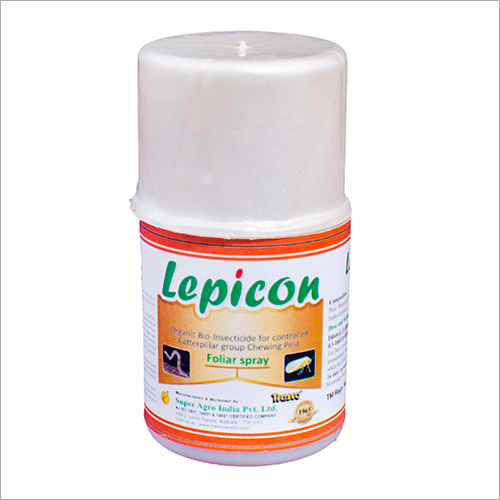 Caterpillar Control Concentrate
Product Description
Dedicated efforts of professionals and well-equipped production unit have help us to manufacture and supply a large assortment of the best-in-class Caterpillar Control Concentrate. It is made by us using premium quality raw materials that provides strong and long structure along with anti-abrasive and anti corrosive properties. It is widely used to dry compound fertilizers and other granular materials with need humidity and size of particles. In addition to this, the provided Caterpillar Control Concentrate provides automatic operation with better drying effect.
Target crops
All cultivated Agricultural crop/Horticultural crops/Plantation crops/Floricultural crops
Composition
Pure Botanical Extract of Alkaloid, Allium sativum, Derris Indica Extract Botanical extracts of many potent natural insecticides producing plants and trees.
Mode of action
Effective in the control of lepidopterous pests like caterpillars/borers/flies/maggots etc.
LEPICON an effective contact Insecticide known to control caterpillars, heliothis, spodoptera, and Diamond back moth. It is specially formulated to include alkaloids which are derived from botanical sources, derris indica. It can be used to control targeted pests on crops which include vegetables, grapes and other small fruits, tree fruits, cotton, shrubs, shade and ornamental trees, turf, Tea and coffee plantations ,foliage and flowering plants growing outdoors, in greenhouses and interiors.Very suitable for potted flowering plants and Orchids
Mode of action: On contact with the targeted pest, it disrupts the structure and permeability of the insects' cell membranes. The cell contents are able to leak from the damaged cells and the insect quickly dies. Residual activity is limited once the spray is dried.
This product must come into contact with the targeted soft-bodied pests. Complete coverage of pests is essential for maximum control. Spray directly to contact the pests. Apply promptly after mixing with other pesticides to avoid or reduce alkaline hydrolysis of certain pesticides.
Target Pests:
Jassids, Aphids, and Scale Insects. Boll Worms (Heliothis), Caterpillar Heliothis Armigera, Spodoptera, Leafminer, Diamond Back moth. Looper Catterpillar in Tea.

Dose and application procedure
Dilute@ (1:1000) LEPICON ie @ 250 ml / 200 Ltrs of water. i.e. 1 to 1.5 ml /Ltr of water.Apply as a fine mist until foliage is wet - For best results, apply when the plant is cool - Do not apply immediately before or after rainfall or sprinkler irrigation or when the plant is under stress. Repeat application every 7 to 14 days as needed. For vegetables, spray several days before blooming. Do not apply during or preceding pollination.
Payment Mode :- DD/NEFT/RTGS/Direct Transfer
Trade Information
Kolkata

As per order Per Day
Contact us for information regarding our sample policy

Uttar Pradesh, Jharkhand, Chhattisgarh, Bihar, Andhra Pradesh, All India
Contact Us
168/2, Lenin Sarani Kolkata West Bengal India +918037401895
Phone :+918037401895