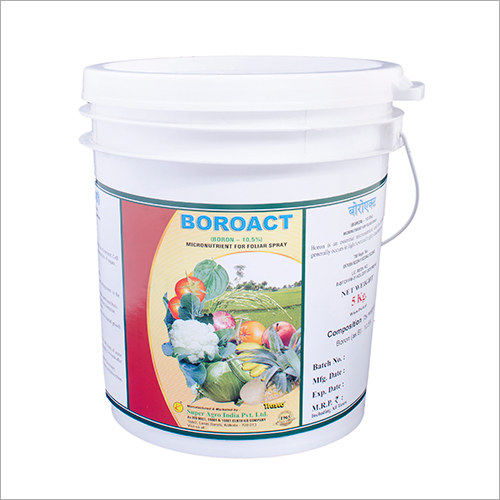 Micronutrient Foliar Spray
Price And Quantity
Product Specifications
Product Description
We are counted amongst the top companies involved in providing a wide array of Micronutrient Foliar Spray. It is mainly used for promoting the growth of plants & are highly praised due to their precise composition. provided products is the part of humic substances which are dark brown in color & major constituent of humus which is required for plants. provided products can be availed at market leading rates via easy payment modes.
Target crops
All cultivated Agricultural crop/Horticultural crops/Plantation crops/Floricultural crops, specially for tea plant. Zinc fortified is the best option to treat LP and DS pruned tea
Composition
Boron 10.5%
Mode of action
Boron (B) primarily regulates the metabolism of carbohydrates in plants. The need varies greatly with different crops. Rates required for responsive crops may cause serious damage to B-sensitive crops. Boron deficiency may occur on both alkaline and acid soils but is more prevalent on the calcareous, alkaline soils. A primary function of boron is related to cell wall formation, so boron-deficient plants may be stunted. Sugar transport in plants, flower retention and pollen formation and germination also are affected by boron. Seed and grain production are reduced with low boron supply. Boron-deficiency symptoms first appear at the growing points. This results in a stunted appearance (rosetting), barren ears due to poor pollination, hollow stems and fruit (hollow heart) and brittle, discolored leaves and loss of fruiting bodies. Boron deficiencies are mainly found in acid, sandy soils in regions of high rainfall, and those with low soil organic matter. Borate ions are mobile in soil and can be leached from the root zone. Boron deficiencies are more pronounced during drought periods when root activity is restricted. Boron deficiency results in stunted growth of young plants. The youngest leaves are affected first. They will be misshapen, thick, brittle and small. Because boron is not easily transferred from old to young leaves, older leaves usually remain green and appear healthy. Often dark brown, irregular lesions appear, followed by pale yellow chlorosis of young leaves. Stems are short and growing points may die. In canola, the symptoms of a boron deficiency can be confused with a sulphur deficiency. In alfalfa, boron deficiency symptoms include death of the terminal bud, rosetting, yellow top and poor flowering. When a boron deficiency is moderate, seed yield is often reduced without any evidence of severe deficiency symptoms during vegetative growth. Compounds of boron, notably borax, have been known since early time. It is a trace element needed for plant growth, but toxic in excess. Research suggests that it is also nutritionally important for bone health in humans and other vertebrates. The boron compounds of industrial importance include borax (Na2 B4O7• 10H20), boric acid (H3BO 3), and boron carbide (B4C).
Dose and application procedure
Trasco boron 10.5% strength can be used @220gms to 500 gms per 200 lits of water after 35 days of crop plant being established in the field.
Payment Mode :- DD/NEFT/RTGS/Direct Transfer
Trade Information
Kolkata

As Per Order Per Day
Contact us for information regarding our sample policy

Uttar Pradesh, Andhra Pradesh, Jharkhand, Chhattisgarh, Bihar, All India
Contact Us
168/2, Lenin Sarani Kolkata West Bengal India +918037401895
Phone :+918037401895