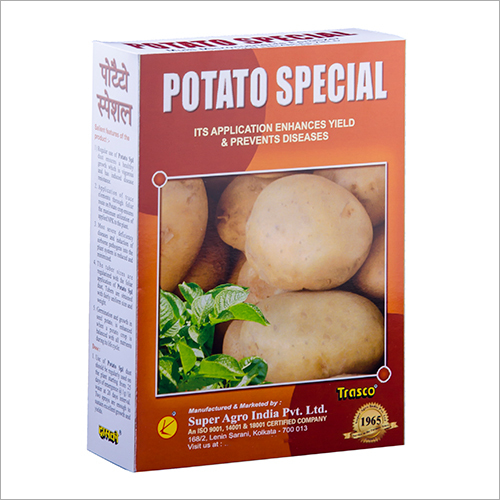 Potato Micronutrients Growth Stimulation
Product Description
Target crops
Potato crop only
Composition
Other inert Ingredient for ratio - 94.50 % with / B- 0.5% / ZN - 5 %
Mode of action
Application of Potato spl nutrients for potato crop , useful in Nitrogen transformation, chlorophyll synthesis, protein synthesis, The product aids in good tuber coloration.It helps to liberate basic nutrients,from soil , helps the roots,to grow and accumulate the food well to give healthy tubers, It increases Vitamin A, protein content in tubers . Prevents interveinal chlorosis, prevents stunted growth, yellowing, and defoliation in severe case of micronutrient deficiency. It prevents rossetting, and die-back, Prevents malformation of leaves and poor tuber formation in potatoes. When potato special is used it increases tuber formation with size, weight and colour. Increases the number of tubers per hill, it also increases the germination quality of seed tubers, excellent root formation is seen, resistance to blights have been observed.
Poato crop requires a high amount of soil micronutrients and thus farmers who regularly do not use Zinc and aminoacids/enzymes will only harvest a poor crop.The attack of disease in potato plant depends on the health of the plant.Zinc and Manganese play a very important role in the health of the potato plant. In acidic soils there are many problems because of which the potato crop cannot uptake the heavy dose of basic nutrients given by the farmers.The foliar application of Potato spl liquid or dust greatly induces the Potato plant to take up the basic nutrients like NPK .Mere growth of the plant in size will yield small tubers as the metabolites will be diverted to the vegetative parts of the plant.Potato spl spray will check the excessive growth of the bush and divert the metabolites to the tubers for it to grow.
Dose and application procedure
Foliar spray @ 1-ml/Ltr. water. At 45 days of age of the crop in the field
Repeat after 15 days at the same dose for better results..

Packaging Size
1 LIT / 500 ML / 250 ML / 100 ML
Payment Mode :- DD/NEFT/RTGS/Direct Transfer
Trade Information
Kolkata

As per order Per Day
Contact us for information regarding our sample policy

Madhya Pradesh, Jharkhand, Chhattisgarh, Bihar, Andhra Pradesh, All India
Contact Us
168/2, Lenin Sarani Kolkata West Bengal India +918037401895
Phone :+918037401895