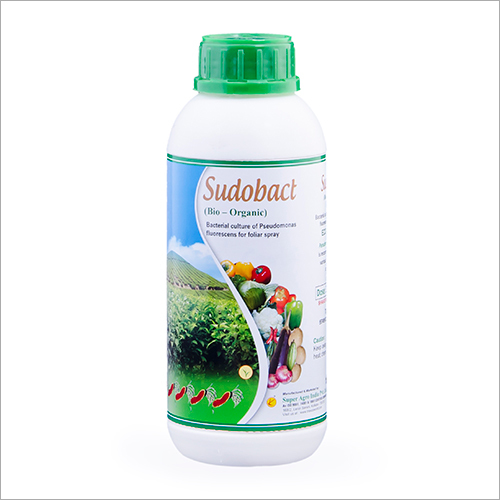 Pseudomonas Fluorescens Foliar Spray
Price And Quantity
Product Specifications
Product Description
Due to our vast industry experience, we are engaged in providing excellent quality Pseudomonas Fluorescens Foliar Spray. This chemical is prepared by using premium grade chemical substances and advance processing technology under the supervision of skilled team of professionals. The provided chemical is mainly used for fungicide, herbicide, and pesticide in various industries such as chemical plants, agriculture, feed premix plant, pharmaceutical and others. Also, this Pseudomonas Fluorescens Foliar Spray is used to control fungal and bacterial diseases.
Target crops
All Cultivable agricultural crops.
Composition
1. Cfu count:
5 X 109 in liquid formulation
2.Sudobact is a carrier based powerful mixture of the Gram negative rod shaped bacteriumPseudomonas fluorescens. Pseudomonas is very well known for its wide range of useful properties which makes its use widespread in agriculture. It enters the system of the plant and colonizes various portions and brings about the biocontrol activities. It can control fungal pathogens like Pythium spp., Phytophtora spp., Rhizoctoniaolani, Fusariump, Botrytis cinerea, Sclerotium spp., Sclerotinia sp. and Ustilogop etc. as well as numerous bacterial pathogens
Mode of action
1. The special properties of Pseudomonas which make it such a powerful plant pathogen killer are as follows:
• It produces many useful secondary metabolites such as the antibiotics pyrrolnitrin, pyoluteorin, and 2,4-diacetylphloroglucinol which inhibit the growth and colonization of phytopathogens.
• It produces siderophores which are iron chelating chemicals. Thus the Pseudomonas absorb all the available iron and make it unavailable to other pathogens which is one of the essential metal ions. The green fluorescent pigment itself contains the siderophore named as pyoverdine.
• Pseudomonas produces the poison hydrogen cyanide which kill thepathogens.
• It produces many exopolysaccharides which prevent the plants from bacteriophage attack and from dehydration.
• It produces many useful plant hormones such as the auxins and cytokinins.
2. The Pseudomonas bacteria benefit the plant in numerous ways. The most effective way is by virtue of its property to kill pathogens. Since it is a very fast grower it colonizes the plant system and does not allow any other phytopathogenic fungi or bacteria to grow and thereby prevents infection. The hormones produced by them help in increasing root growth. Hence the roots get more access to soil nutrients and soil water which in turn is supplied to the plant. Pseudomonas also degrades the complex and toxic soil pollutants and improves soil health. It is very environment and human friendly.
Dose and application procedure
1. Suspend Sudobact in sufficient water (500g/100L) to achieve uniform application. Apply at the rate of 100-200 g per cubic metre (loose) of greenhouse potting mix, soil or planting beds.
Pseudomonas fluorescens can be applied through low pressure watering nozzles such as fan nozzles or other watering systems (drip system) after filtering with filters. For best effect, treat potting mix several days before use for seeding or transplants.
Two to three applications in vegetables and ornamentals and 4-5 applications in lawns and landscape crops are recommended. Applications during early stages of plant growth protect the plant during critical stages of development.
Dosage
For foliar spray:
@ 1ml/L of water and drench the plant thoroughly with this mixture.
For tea plant pit:
put 1 tsp 5 gms of the material per , as you plant tea , followed by a foliar spray @ 1ml / Litre and drench the plants.
For foliar application of tea , apply @ 1ml / Litre and drench the plants to control stubborn tea pathogens.
Put 1 tsp 5 gms of the material per pit, as you plant tea, followed by a foliar spray @1ml/Litre and drench the plants.
For foliar application of tea, apply @1ml/Litre and drench the plants to control stubborn tea pathogens.
Packaging Size
5 LIT / 1 LIT / 500 ML / 250 ML
Other Names: Humic Acid
MF:C9H8K2O4
Water Solubility:100%

Payment Mode :- DD/NEFT/RTGS/Direct Transfer
Trade Information
Kolkata

As per order Per Day
Contact us for information regarding our sample policy

Plastic Bottle
Uttar Pradesh, Jharkhand, Chhattisgarh, Bihar, Andhra Pradesh, All India
Contact Us
168/2, Lenin Sarani Kolkata West Bengal India +918037401895
Phone :+918037401895