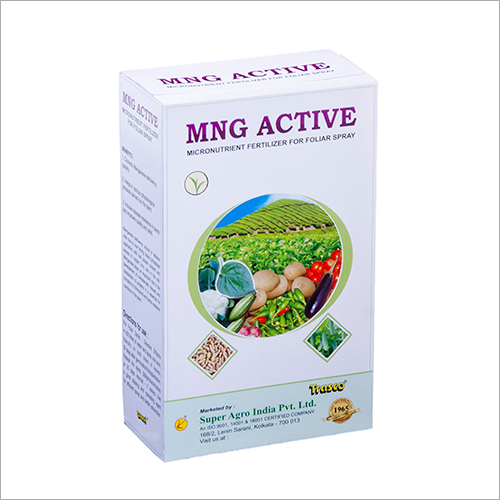 Vegetable Micronutrient Fertilizer Foliar Spray
Price And Quantity
Product Specifications
Product Description
We prepared best grade Vegetable Micronutrient Fertilizer Foliar Spray that are mainly rich in Organic Nitrogen. Therefore, it support the development and growth in plants and are are made to provide good amount of trace minerals such as manganese, zinc, iron, copper, boron etc., to the plant. Our offered Vegetable Micronutrient Fertilizer Foliar Spray is made available in premium quality tamper proof packaging and marketed in various types, with each type having different percentage of proteins.

Target crops
All cultivated Agricultural crop/Horticultural crops/Plantation crops/Floricultural crops.
Composition
Manganese as Mn-30.5%
Magnesium as Mg-2.0%
Sulphur as S- 18%

Mode of action
Manganese is necessary in photosynthesis, nitrogen metabolism and to form other compounds required for plant metabolism. Interveinal chlorosis is a characteristic manganese-deficiency symptom. In very severe manganese deficiencies, brown necrotic spots appear on leaves, resulting in premature leaf drop. Delayed maturity is another deficiency symptom in some species. Whitish-gray spots on leaves of some cereal crops and shortened internodes in cotton are other manganese-deficiency symptoms. Manganese (Mn) is mainly absorbed by plants in the ionic form Mn ++ . Manganese may substitute for Mg by activating certain phosphate-transferring enzymes, which in turn affect many metabolic processes. High Mn concentration may induce Fe deficiency in plants. Manganese availability is closely related to the degree of soil acidity. Deficient plants are usually found on slightly acid or alkaline soils. Liming Florida soils to pH above 6.5 frequently causes Mn deficiency.
Manganese deficiencies mainly occur on organic soils, high-pH soils, sandy soils low in organic matter, and on over-limed soils. Soil manganese may be less available in dry, well-aerated soils, but can become more available under wet soil conditions when manganese is reduced to the plant-available form. Conversely, manganese toxicity can result in some acidic, high-manganese soils. Uptake of manganese decreases with increased soil pH and is adversely affected by high levels of available iron in soils. In legumes, deficiency symptoms include pale green young leaves and a pale yellow mottling develops in interveinal areas, while the veins remain green. Oats are an excellent indicator crop. Manganese is partly mobile in oats. White to grey flecks or specks first appear and become more severe on mature leaves about halfway up the shoot. If a deficiency persists, symptoms spread to old leaves then to the youngest leaves. The specked condition is referred to as "grey speck" and will appear in the interveinal area of the lower half of older leaves and extend toward the tip as symptoms develop. Manganese is not readily transferred from old to young leaves in wheat and barely. In wheat and barley, affected young leaves frequently turn pale green and have a limp or wilted appearance. A mild interveinal chlorosis develops in the mid-section of the leaf and spreads rapidly becoming pale yellow-green. Small white to grey spots, specks or strips appear a short distance from the end of the leaf tip on young leaves.
Dose and application procedure
As a foliar spray dissolve 500gms Trasco Manganese /200 lits water and spray .Repeat after a month if necessary
Packaging Size
1 KG PKT
Payment Mode :- DD/NEFT/RTGS/Direct Transfer
Trade Information
Kolkata

AS Per Order Per Day
Contact us for information regarding our sample policy

Chhattisgarh, Uttar Pradesh, Andhra Pradesh, Bihar, Jharkhand, All India
Contact Us
168/2, Lenin Sarani Kolkata West Bengal India +918037401895
Phone :+918037401895